InTime (St. Peterburg)
InTime (St. Peterburg) 2011
Joint Swedish-Russian art project nominated Art Award of Kurehin 2012
Sergey Katran (Russia) Ekaterrina Sisfontes (Sweden)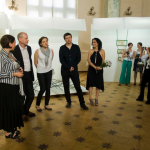 Traveling around the world, we are mindful of the local time, and amend, turning the clock.
However, the local time is not only the formal numerical difference -it is also a way of relating and experiencing time in a particular geographic point in space.
This is due to temperament, experience, psychology, world perception combined with local traditions: grasping the essence of local time gives one the ability to understand the crux of a nation.
Therefore, discussions about time, making an effort to understand its value for different cultures is of great interest.
This is the topic to which two artists – Sergey Katran (Russia) and Ekaterina Sisfontes (Sweden) have dedicated their project "InTime."
In the Russian literary tradition, the difference of rational and irrational approach to time is usually associated with the characters of the novel written by Goncharov,
where contemplation and daydreaming of Mr. Oblomov are in opposition to the rationalism and research activity of engineer Stolz.
Petersburg is the place where the sense of this tension feels particularly strong.
However, it is up to the audience to decide which of the authors embodies these trends…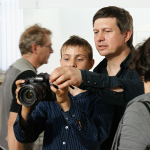 Sergey Katran – Russian artist, who works at the boundary of art and science.
Born in 1970 in the town of Nikopol Dnipropetrovsk region, since 1993 he lives and works in Moscow.
His three-dimensional objects, as a rule, are not static, and interactively work with the audience, fulfilling his tactics call for Random Art.
He participated in the third Moscow Biennale of Contemporary Art (special project Biennale "sleeping area" and the international action
"Night of Museums 2010" (The State Tretyakov Gallery, the exhibition "Art Sanatorium.")
The first version of the object "Gravitational Time Seal – 1" has been shown in 2010.
In total the exhibition-installation 'sleeping area. Open class.
One of his last works – installation "The Chairs of Fibonacci" was featured in the exhibition "Visual scores for the anniversary of the composer Vladimir Martynov,"
in the State Center for Contemporary Art of Russia.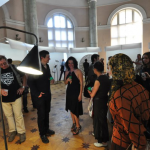 Library and Cultural Center in honor of Mayakovski

The place selected for the exhibition is in the historic centre of St. Petersburg.
Its story and the architecture itself are also linked with time. The existing Round Hall of Library and Cultural Center in honour of Mayakovski (BIKTsiM) on Nevsky 20, once belonged to the Dutch Reformed Church, built in 1830-1833, respectively. Then, in this part of town, adjoined areas inhabited by the Dutch arrived in St. Petersburg (near Big Stables Street) and the Swedes (District Minor).