InTime (Moscow)
Joint Swedish-Russian art project
Sergey Katran (Russia) Ekaterrina Sisfontes (Sweden)
Curator Vitalij Patsyukov

In their joint project «InTime», the Russian conceptual artist Sergei Katran and Swedish artist Ekaterina Sisfontes dedicated time to a philosophical concept of interpretation of its topic in different cultures.

The project «InTime» forces its viewers into other dimensions, like Lewis Carroll's Alice in Wonderland. But at the same time, it is a "post-historical" experience, which lets the viewer realise that in our stratified world divided in nanoseconds, you find the integrity of 4'33 "by John Cage.

Sergei Katran and Ekaterina Sisfontes implement the project as a creative dialogue in which the term "play by the rules" loses its stable meaning. Instead, they transform it into visions of the modern era, where the nonlinear equilibrium triumphs in the immediate improvisation. "InTime" confirms that the artist always acts in time, revealing the reality of its vulnerability and selflessness of discovering the hidden processes of time, inseparable from life in space.

Sergei Katran is the artist and inventor of the "machines" that can be used to compress and, its opposite, to extend the time. "Time Gravity Seal," "The Wheel of Time" are some of his inventions and other interactive objects and installations.

Ekaterina Sisfontes decodes time as the false perception that humanity has been fighting through all of its history.

In this project, the artist takes her experience with micro-objects to the macro level.

Project "InTime" indicates a particular time, in which our civilization is required to enter into completely new frames of reference. This point flickers, changes its position, trying to evade any security, expanding indefinitely, and eventually turns into a wave. Its forms are divided into elementary particles and end up focusing on the Fibonacci series. It builds up paradoxical proportions to re-prove our dubious assertion that reality is governed by the law of "cause-effect" … Time Machines by Sergei Katran floating in orbit, moving in circles, building up their energy to defuse it in time, before the expected disaster. In dialogue with the position of Sergei Katran's works gives Ekaterina Sisfontes time a particular linearity, which repeatedly forces to complete a previous phase, without the opportunity to come back to the same phase, it continues to strive forward continually.

This duo blends the European notion of measuring time by the Eastern Buddhist wheel and creates a situation of intersection between eternities…

Curator "InTime" (Moscow): Vitalij Patsyukov.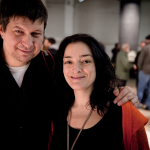 Sergey Katran – Russian artist, who works at the boundary of art and science. Born in 1970 in the town of Nikopol Dnipropetrovsk region. Since 1993 he lives and works in Moscow. His three-dimensional objects, as a rule, are not static, and interactively work with the audience, fulfilling his tactics call for Random Art.
He participated in the third Moscow Biennale of Contemporary Art
(special project Biennale "sleeping area" and the international action
"Night of Museums 2010" (The State Tretyakov Gallery, the exhibition "Art Sanatorium.")
The first version of the object "Gravitational Time Seal – 1" has been shown in 2010.
In total the exhibition-installation 'sleeping area. Open class.
One of his last works – installation "The Chairs of Fibonacci" was featured in the exhibition
"Visual scores for the anniversary of the composer Vladimir Martynov,"
in the State Center for Contemporary Art of Russia.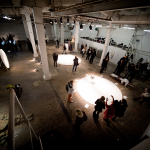 THE CENTER FOR CREATIVE INDUSTRIES (CCI) FABRIKA

The Space at Project Fabrika was 513 m2 and 6 meters high.
Founded in 2004, PROEKT_FABRIKA is the first independent not-for-profit contemporary visual art organisation in Moscow.
The project has more than 700 square meters of exhibition spaces, international residency and 1000 square meters of venue space destined to accommodate diverse cultural and social events such as dance, theatre and music concerts. Originally designed to present
a program of collective exhibitions, the project is now committed to promoting cultural
and intellectual diversity through the presentation of international contemporary art and culture.
In 2008 our centre became a member of Trans Europe Halls (European network of independent culture centres).
Describtion of objects
Ekaterina Sisfontes PENDLUM OF FOUCAULT (Disco Ball, Rope, Sand, Gypsum)

There are about 20 pieces of functional Foucault Pendulums in the world.
Researchers have studied us meticulously, observing both us and the surrounding world. They measured, calculated and made conclusions.
The results allowed them to presume that all of us are trapped in the world that was composed long before we were born. We admitted to their arguments obediently. They looked a for confirmation of their own notions for infinite number of years and assumed many kinds of unconfirmed facts to make their theories believable. However, we have to recognise that we still haven't got a time machine, despite their assumption, that time is a non-linear object.
Some of their theories lack any practical application.
As a result, all these formulas and explanations dissolve like sand on the dunes of our doubts. The question is not – "To be or not to be?". Our questions: Who am I? Where am I? Where am I? – remain unresolved. But scientists bank their heads against the concrete walls of conservatism stubbornly and keep transforming their uncertain theories to become officially recognised dogmas.

Ekaterina Sisfontes A MINUTE (Iron, glass, forging, 2011 (changed))

This is one of the basic concepts associated with time: economical.
We think that someone owes us for every second of our efforts.
So is it not the time already to produce a monetary unit corresponding to the time interval?
And to pay each other with printed time money?
Note, however, the different value we attribute to the time of different people.
For someone, a piece of paper worth one hour should be larger, for another smaller.
Trading, speculating and saving, and all of this in time units which dissipate
after the completion of a particular period. Isn't this a new economic system?

Ekaterina Sisfontes TIME IS MONEY (Iron, photography, forging, a lot of Photoshop)

This is one of the basic concepts associated with time: economical.
We think that someone owes us for every second of our efforts.
So is it not the time already to produce a monetary unit corresponding to the time interval?
And to pay each other with printed time money?
Note, however, the different value we attribute to the time of different people.
For someone, a piece of paper worth one hour should be larger, for another smaller.
Trading, speculating and saving, and all of this in time units which dissipate
after the completion of a particular period. Isn't this a new economic system?

Ekaterina Sisfontes A SECOND (Iron, Plexiglas, forging, photography)

How much can we get done within a second – we do not know.
Pay attention to you movements.
How long does it take you to raise your hand,
sit down on a chair, scratch your nose?
Routine perception of motions ceases to catch your attention
once you've mastered their mechanism.
Only newborn infants are still able to devote all their attention
to the process of moving in the space of an infinitely long second of learning.

Ekaterina Sisfontes AN HOUR (Iron, enameled bidet, forging, Plexiglass, 2011 (changed))

We divide the world into slides using clockwork.
We live in pace with the little arrow on the dial.
A dozen hours before and a dozen hours after dinner.
The Babylonian reckoning system remains forever rammed in our minds.
Divided into two halves, day embodies for us a circle of twelve numbers,
where the longer arrow completing progressively its
turn forces the small arrow to nervously jump forward.
And so we are dependent on those rhythmic ticks.
We plan our day according to the markings of hours.
A sound that marks each jump of the short arrow moves us immediately
a time space. The previous section has lost its role in life.
Yet it seems strange when the evening is expected to submit at eighteen hours,
and the morning is strongly associated with the number seven.
Looks like we consider ourselves being clock's own slave.
Excuse me, how much time is it now?
– 1267 drops from the sun's birth …

Ekaterina Sisfontes THE FIELD OF TIME (Iron, forging, 2011)

We must admit that we comply to the slightest command of the hour.
We surrender our entire life to the insistent voice of the watch mechanism.
We peer at its numbers every half hour when waiting for something important to occur,
and elevate it to our eyes every moment when experiencing stress.
Having a reference point, we divided the year into four seasons,
then into a dozen of months. Fifty-two weeks are comprised of seven days each, and they,
in their turn, were divided by twenty-four hours, which were divided anew into sixty equal units.
And another sixty, again and again… And all this was named, defined,
described and counted, counted, counted….
Who knows, maybe this initial grinding of time served as the basis for all
of our depressions and disappointments? And who knows,
if we suddenly cease counting it continuously, we will be able to sail on the waves of time,
back and forth, entirely free…

Ekaterina Sisfontes A DAY (Iron, lamp, forging, 2011 (changed))

Finding ourselves on another planet, we are forced to admit that our attachment to a small yellow dot on the horizon is fundamentally mistaken.
We divided our time into units by consistent observation of our own, so provincial, star. Her endless discipline and desire to appear in
the same place on the horizon with perfect rhythm, allowed us to callously break the flow of time into years, months, days, hours, minutes, seconds…
We refuse to consider the limitations of our own astronomical position and are ready to close our eyes and ears, defining the world as the small space around ourselves.

Ekaterina Sisfontes WASTED TIME (Concrete)

As an orange divided into segments flies the tiny ball we know as Earth through space.
We take the step to the next zone, and the short arrow on the clock jumps nervously with us.
We then take a step back smiling.
We fly from Moscow to Tokyo, and the day becomes endless.
We take the plane from Moscow to Stockholm and arrive 45 minutes before.
We call our dear friend in New York in the middle of the night to say, "Good morning."
But there are two places in the world where there
is neither the need nor possibility to determine a time in numbers.
The poles cancel our understanding of time.
Please, step into the centre. In this part of the world, you will find all the beginnings and the ends of hours.
There is a place for rush or delays. This is the time in its absolute zero.

Ekaterina Sisfontes ZERO OF TIME (Iron, Plexiglass, forging)

Awarded a limited warranty of the body, we spread rashly endless hours to the wind.
We throw them up in the air, and they disappear irrevocably as rubbish in the bin.
Next moment we end up regretting it, just to shortly find a thousand reasons
not to do something meaningful.
Sometimes, slaves of the circumstances, we stand in endless queues in order to receive something pointless. We spend hours stuck in traffic jams. We stubbornly argue over small things with neighbours in the stairwell…
We lose time on trifles as an unnecessary, meaningless small issue.
But in a modern society, all should sort their everyday garbage.
Here is an example of the solution to the problem.
A trash container for the waste of time should be than gratefully welcomed.

Ekaterina Sisfontes THE ENTROPY OF TIME (Video)

Director and idea: Ekaterina Sisfontes
Camera and montage: Kolenka Rammi
Music and acting: Nikolaj Efremov
The meaninglessness of our use of such a simple and non-specific object as time is inevitable. We rush through the world in pursuit of happiness, comfort, and social benefits.
In this chaotic motion, we see the real target. In the endless repetitions, we accumulate experience. But no one has ever defined neither the start point of the existing, no veritable goal for the human life.
We are deprived any chance for with any efficiency achieve any certain results, and admitting our blindness in mind we grab the steering wheel by both hands and fearlessly turn onto the endless highway of our uncertain destiny.

Sergei Katran THE CRYSTALS OF TIME (Aquariums, Hourglasses, Electrical Power)

Aquariums filled with water are used to store "crystals of time" or simply hourglasses.
Studies have shown that the time giving the capacity of the crystals that were kept in ordinary distilled water for at least 24 hours increased by 20%.

Sergei Katran GRAVITATIONAL TIME SEAL 1 (GTS1) (Hourglasses, Plexiglass)

The object is a subject, turning that we can observe the movement of sand (silica) in 144 hourglasses.
Each of the sand units designed for 10 minutes.
If you multiply 144 by 10 minutes, it turns to be 24, which is a day.
Thus, gravitational Time Seal-1 seals the day in just 10 minutes.

Sergei Katran THE WHEEL OF TIME (Hourglass, Gipsum, Engine, 2011)

The object "Wheel of Time" was created as a result of continuing experiments
with gravity seal time (object, "GTS1"). However, when testing the facility we found that "Wheel of Time" in contrast to the gravity seal, does not compress the time, but to the contrary; it throws away any excess into the atmosphere.
Empirically found that standing in front of the object for 10 minutes the viewer gets 24 hours of free time. This situation in its turn led us to the idea that is fully possible to compress and expand time.

Sergei Katran THE OBELISK WITH CUCOOBIRD (Artificial stone, plastic, mechanical cuckoo, motion detector)

The object is a typical intergalactic catalyst spasmodic development of humanoid-like carbon and silicon life forms.
Growing up on the "obelisk" tinder fungus indicates that it was some time since the object moved anywhere in space.
Cuckoo reports to us information, the secret meaning of which is still hidden from us.

Sergei Katran COMBAIN-02 (Electrical engine, calendars, audio system)

Paper calendars are carried by, for a split second, revealing the number of days.
With what have we been busy today? What did we do yesterday and what will we do tomorrow?
How do we spend our precious time?
These and other questions are answered by well-known figures of modern art
and the artist's relatives, using texts from the
"home calendar" corresponding to the birthdays of members.